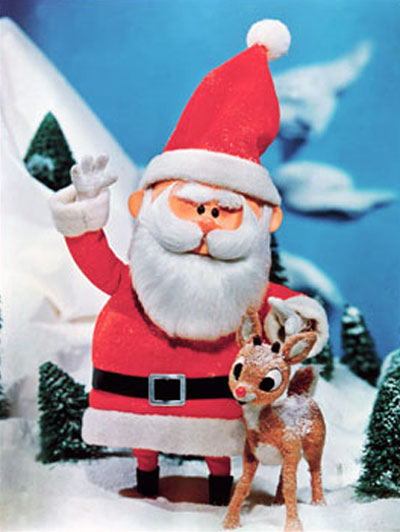 Not only is Red Velvet Santa's first choice in Holiday attire, but a little elf told me that besides Christmas cookies, which by the way he has to be sick of, Red Velvet is also his favorite cupcake! So I thought I would do a test run so that when Santa comes barreling down my chimney I will be ready with a cupcake that will make his eyes twinkle and his little round belly smile.
This Red Velvet recipe yields a heavier cupcake, which I prefer to the light and deceiving boxed cake mixes, and of course is topped with the traditional cream cheese frosting. However, the traditional frosting has a twist with the addition of brown sugar, my favorite kind, which gives the cream cheese a warmer fuller sweetness than regular sugar would. I must admit, I am not the biggest fan of Red Velvet Cupcakes, sorry Santa. I think it is because I would rather top my chocolate cupcake with more chocolate instead of cream cheese, but I thought these were pretty darn good! And very festive since the chocolate cake is dyed red and I frosted half white and half green.
So take it from Santa and give them a shot. Wasn't it Jolly Ol' Saint Nick himself who said, "Red Velvet Cupcakes to all, and to all a good-night!"
Red Velvet Cupcakes
(modified from
Joy the Baker
)
16 Tablespoons unsalted butter, at room temp
2 cups plus 4 Tablespoons granulated sugar
4 large eggs, at room temp
1 teaspoon vanilla
4 cups cake flour
4 Tablespoons cocoa powder
4 teaspoons baking powder
1/2 teaspoon baking soda
1 teaspoon kosher salt
1.5 cups buttermilk
scant 4 Tablespoons Red Food coloring
1. Preheat the oen to 325. Sift together flour, cocoa, baking powder and baking soda. Add the kosher salt after sifting and set aside. Measure out the buttermilk and red rood coloring. Add the die to the buttermilk for easier incorporation later.
2. Cream the butter and the sugar using an electric mixer, until the mixture is pale and fluffy. Add the eggs one at a time, letting the eggs beat for 1 mintue in between additions. Scrape down the bowl in between additions.
3. Add the dry ingredients alternately with the wet ingredients. Start by adding one third of the flour mixture. Mix just to incorporate. Add half of the buttermilk. Add another one third of the flour mixture. Mix to incorporate. Add the last half of buttermilk, followed by the last third of flour.
4. Spoon into paper lined cupcake pans. Check the cupcakes after 12 minutes. Bake until cake tester comes out clean. Probably closer to 15-17 min total bake time. Makes 24 cupcakes.
Brown Sugar Cream Cheese Frosting
1 1/2 cups butter, softened
8oz cream cheese, softened
1/4 cup light brown sugar, packed
1 teaspoon vanilla extract
2 tablespoons milk
4-6 cups powdered sugar, depending on desired consistency
1. Cream the butter and cream cheese together in an electric mixer. (Be sure that the two are at room temperature. Cold cream cheese or butter can make your frosting lumpy.)
2. Add the brown sugar and vanilla extract, and beat for about 2 minutes.
3. Turn off mixer and add 2 cups of powdered sugar. Turn the mixer on a low speed so the sugar doesn't fly out of the bowl. Slowly add more sugar alternately with the milk until you reach your desired consistency.
4. Separate the frosting into two bowls. Add green food dye to one bowl until the frosting your desired shade of green. Frost and enjoy!