There are many things to be thankful for, and most are more important than sweets. However, that's what this blog is about, so I thought I would compose a list of sweets I am most thankful for. Enjoy, and feel free to add your own!
1. Chocolate Chip Cookies: Thank you so much for never disappointing me. For all the times you satisfy my carb and chocolate cravings, and for those extra special times you are chewy in the middle, crunchy on the edges and hot out of the oven.
2. Peanut Butter & Chocolate: Thanks for being the perfect sweet and salty pair.
3. Yummy Cupcakes: Thank for being the best cupcakes a girl could ask for. And a special thank you for giving me Happy Day's.
4. Circus Peanuts: Thank you for being sweet beyond anyone's expectations and for revealing your goodness only to me and my family so I don't have to share you.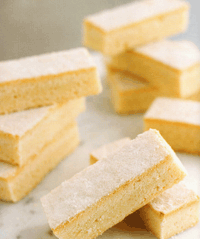 5. Tartine's shortbread: Thank you for being the perfect companion to my cafe au lait and for you simple buttery goodness.
6. Cinanbon Cinnamon Rolls:Thank you for being the only good part about airports. Thank you for being covered in rich icing and butter. I am sorry for all the times I swear you off, but both you and I know we are quickly reconciled.
7. Old Fashion Donuts: Thank you for being the perfect donut, firm on the outside and soft in the middle. You are too sweet.
8. Pecan Pie: Thank you for being the only pie I like and the only thing I really look forward to at Thanksgiving. Oh yeah, and remember that time I microwaved you and heaped vanilla ice cream on your face, I still owe you for that one.
9. Yogurtland: Finally, let me thank you for letting me control how much, what kind and what topping. You never let me down and you also make me feel better about myself unlike mean old ice cream who always deceives me.
But seriously, let us give thanks for those we love and those who love us. Here is Psalm I learned in pre-kindergarden and used to repeat to my Grandpa every Thanksgiving. It is still as true today as it was when I was 6.
A Psalm for Thanksgiving
Shout joyfully to the LORD, all the earth.
Serve the LORD with gladness;
Come before Him with joyful singing.
Know that the LORD Himself is God;
It is He who has made us, and not we ourselves;
We are His people and the sheep of His pasture.
Enter His gates with thanksgiving
And His courts with praise
Give thanks to Him, bless His name.
For the LORD is good;
His lovingkindness is everlasting
And His faithfulness to all generations