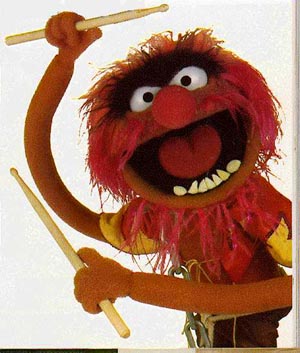 I hope everyone had a lovely Valentines Day. Mine was pretty low key in fact we didn't do much of anything until the evening when we went out for dessert. That's my favorite part of the holiday anyways, the excuse to indulge in chocolates and goodies of every sort. The rest of the holiday's traditions, being loving to one another and showing your affection, should really be practiced 365 days of the year.
Josh had not told me where we were going that evening for dessert, so I was pretty much bugging him all day, kinda like a child would pester their parents about what they are getting for Christmas. I couldn't help it! The thought of not knowing what I had to look forward to was driving me insane. Luckily, my anticipation was relieved when we finally pulled up to this spot in West Hollywood called
Animal
.
The place was booked solid of course, being Valentine's Day and all, so we respectfully took our seats outside to wait for bar seating which took about an hour. After spending the last half an hour making up jokes (The one I made up was best: What do you get when you put a calculus problem and an apple into a cannon and shoot it into clouds? Apple pi in the sky!) we finally took our well earned seats.
We were there for the Bacon Chocolate Crunch Bar, which was featured on the Food Network show The Best Thing I Ever Ate: Bacon. I was stoked! Bacon and chocolate this has to be good. When it came out, my first thought was... we are gonna need some more dessert. It was pretty dang small. But when I bit into it any agitation I had felt about the size melted away as the flavors of dark chocolate and bacon did the same in my mouth with a the slight crunch of rice krispies. Not to mention the salt and pepper anglaise it was surrounded by was phenomenal. I don't know if I would go as far as saying it is the best bacon thing I have ever eaten, I would say my
maple bacon cupcakes
take first prize in that category, but it was pretty darn close.
We decided to order a second dessert since... 1. The first one was tiny, and 2. It was Valentines Day! We ordered a plate of Joe's Donuts. Five minutes later there were three piping hot donut holes covered with cinnamon sugar and carmel on our plate. It pains me to say this because I'm a chocoholic, but I actually liked these better than our first dessert. The fried balls of goodness were so light and airy and they paired so well with the carmel they were covered in. In my defense, they were fried. No hard feelings chocolate, your still my first food love.
I would highly recommend trying this place out, but I have a couple of suggestions first. 1. Make reservations, it defiantly is an ultra hip LA spot and it is a pretty small space. 2. Have dinner there. Their menu looked absolutely fantastic, Josh and I were drooling over peoples food as we waited outside, especially the rib eye for two with escargot butter. But defiantly save room for dessert :)